Pump - TAM 120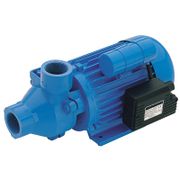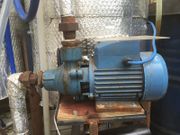 The TAM 120 peripheral pump is sold as being compatible with both mineral diesel and biodiesel and suitable for liquid temperatures up 90°C. This coupled with a good performance make it well suited to a small to medium size home processor, although note should be made of the maximum particle size the pump is able to handle.
TAM 120 specifications
Voltage 230v
Frequency 50Hz
Power 1.5KW
Speed 2800RPM
Duty cycle Continuous
Max flow 80lpm @ 0m head
Max pressure 7.5 Bar
Max suction lift 7 m
Inlet 1½" BSP male
Outlet fitting 1½" BSP male
Max particle tolerance 100 Micron
Max liquid temp 90°C
Components
Pump Body Cast iron (Painted)
Impeller Case Cast iron (Painted)
Impeller Case Seal NBR
Motor Shaft Seal NBR
Impeller Brass
Shaft Key and Nut Stainless steel
Motor Shaft Stainless steel
TAM 120 problems and repairs
Whilst the major mechanical components have proved rugged in service, several examples of terminal boxes cracking and capacitors over heating with subsequent damage to the terminal block have been observed. These issues can be easily remedied using replacement items: see [3D Printed parts and spares]for a stronger design of 3D printed terminal box or replace with a suitable electrical junction box.
Suitable capacitors can be readily acquired from on line auction sites. Original capacitor specification was 40µF ±5%, 450V AC, 50/60Hz. The replacement capacitor must be suitable for continuous duty.
Where the capacitor has melted the terminal block, it's possible to "hard wire" a new capacitor according to the diagram, right. Ensure that suitable insulation is present at all new electrical connections and if in any doubt seek the advise of a qualified electrician.
TAM 120 problems and repairs

Printable replacement showing areas where the design has been strengthened. Printable files can be downloaded from this page ... 3D Printed parts and spares
On later TAM 120's the terminal box and capacitor location was altered (as per photo top right of this page), presumably to overcome these issues.
TAM 120 broken cooling fan
Not thought to be a common problem, but one user has had a cooling fan fragment. A stronger 3D printed replacement has been designed and is available for download from the 3D printed parts page ... 3D Printed parts and spares
TAM 120 problems and repairs